Nathan Belval
---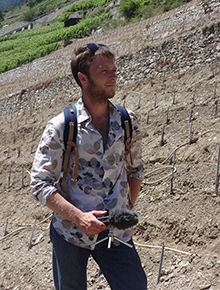 I'm passionate about music and I love to discover the world: travelling and going to meet the other sharing our cultures. I was born in Lille (FR) in 1989 where I grew up and learned the violin.
I live in Paris for twelve years where, I'm PHD candidate in urbanism after my studies in sociology.
Vin Voix Valais gave me the chance to listen to this magnificent concert that Valais wine soundscape is, and to share the pleasure that every sound can also be music…
Emiliano Battistini
---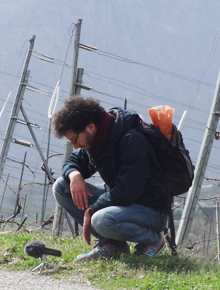 I was born in Rimini (IT) in 1984. I love the sea and the mountain at the same time, travelling and discovering different cultures and landscapes. I studied the classical guitar and I became teacher.
At the same time, I've been fascinated by semiotics and language theory and now I'm PHD candidate at the University of Palermo (IT).
Soundscape Studies allow me to link several things that I love… except my perversion for the gipsy jazz! The wine arrived with a lot of pleasure thanks to the Vin Voix Valais project. Since that day, I love the silence of vineyards, the shhhhh and fffff of fermentation inside the barrels and listening to the voices of friends around a good glass of wine.
Michael Simiz
---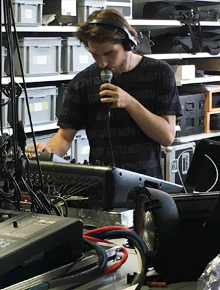 Born in 1994 in the Valais/Wallis canton (CH), self-taught musician, I'm studying as audio technician. I love travelling and my life swings between Friuli (IT) and Valais (CH).
I developed a great interest on sound and my wish is to develop and flourish this passion within the Vin Voix Valais project.